DESCRIPTION
The Compact-a-Tube is a portable semi automatic Labeller. It is designed to apply one or two labels to cylindrical plastic or metal tubes. It is economically priced, industrially built and provides unparalleled productivity without compromising quality. Built for ease of use and long term reliability the Compact-a-Tube is as tough as it looks, made from Stainless Steel and Aluminum, it is very simple to operate and set up. Unlike other semi automatic labellers it rewinds the backing paper as you work – removing potential fire and safety hazards. All die cut labels, whether they are clear or opaque, are able to be applied by the Compact-a-Tube.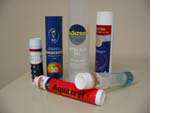 EXAMPLE APPLICATIONS
Plastic or Metal Tubes
One Label (Front or Back)
Two Labels (Front & Back - alternately printed)
Over-labelling of pre-labelled Tubes
Appling Labels relative to Tube Registration mark
PROCESS
As "semi automatic" implies, an operator simply places a tube on the machine's Tube Mandrill, presses the foot switch and the Compact-a-Tube does the rest. When labelling is complete, the tube stops rotating and the pneumatically operated Mandrill arm retracts. The operator removes the perfectly labelled product and repeats the cycle.
Capacity
| | |
| --- | --- |
| Max Roll Diameter | 300mm - 76 Core |
| Product Diameter | Min' 25mm - Max' ~ 80mm* |
| Label Height | Max' 180mm |
| Label Length | Min 15mm - 220mm* |
| Throughput | up 20 per minute** |

* Specials can be accommodated - Please ask if sizes not exactly to your requirements
** Product, Label & Operator Dependent
FEATURE LIST
Label Waste removal – incorporating a backing paper take up roller, all the waste is accumulated in a tidy roll for easy disposal – no fire or slip hazard in the vicinity of the operators feet like similar machines
Easy to set up – within a couple of minutes a new job can be set up and running, increasing productivity immediately
Simple to operate – almost no skill or training is required to obtain an excellent result
Robust, heavy duty construction – the machine is designed for years of trouble free and maintenance free productivity. No lubrication or awkward adjustments are required.
Fully Adjustable – Tool-less adjustment accommodating a wide range of different tube sizes
Optional Devices
Over and Spot Labelling – detecting an existing label and adding a new label is straight forward and uncomplicated
Registration Labelling – Places labels relative to registration marks on tubes
Stainless Steel Work Benches – fixed or on casters, supplied flat packed ready to assemble - Dimensions from: 600(L) x 600(W) x 900(H)
Printer output – For the activation of an external Thermal Printer – for printing; Use By; Batch Codes or Barcodes - preferred printer for this device is the DATAMAXI-Class.
(Get Brochure)